In accordance with article 6 of the law n° 2004-575 of June 21, 2004 for confidence in the digital economy, we specify to the users of the site respire.ensad-nancy.eu the identity of the editor of the site as well as its owner
LEGAL ENTITY
École nationale supérieure d'art
et de design de Nancy
1 place Cartier Bresson,
F-54000 Nancy
T +33 3 83 41 61 61
LEGAL HEAD
AND DIRECTOR OF PUBLICATION
Christelle Kirchstetter
CONTACT
dominique.laudien@ensa-nancy.fr
WEB HOST
OVH
2 rue Kellermann
F-59100 Roubaix
INTELLECTUAL PROPERTY RIGHTS
This site is a creative work. Its content is subject to French and international legislation on copyright and intellectual property.
All rights of reproduction are reserved. The photographs, texts, drawings, images, etc. protected by intellectual property rights are the property of the Ecole Supérieure d'Art et de Design de Nancy or of third parties who have allowed ENSAD Nancy to use them.
Any use, reproduction, representation or distribution of all or part of the elements and information on this site is prohibited without the express authorization of the Director of the publication.
ACCESS TO SITE AND DISCLAIMER
The user of this site acknowledges having the skills and means necessary to access and use this site.
The content of the site is provided "as is", without any guarantee of any kind. ENSAD Nancy does not guarantee and cannot accept any responsibility for the use that may be made of it.
Under no circumstances may ENSAD Nancy be held responsible for damages of any kind, direct or indirect, resulting from the use of this site, and in particular for material damages, loss of data or programs, resulting from its access or use.
ENSAD Nancy cannot guarantee that the information on the site is complete, precise, exact, free of any error and up to date.
Any information may be modified without prior notice.
In accordance with the law n°2004-575 of June 21, 2004 modified for the confidence in the digital economy, you can report any content likely to have the characteristics of the offences referred to in the fifth and eighth paragraphs of article 24 of the law of July 29, 1881 on the freedom of the press and in articles 227-23 and 227-24 of the Penal Code.
COOKIES
Cookies are small text files stored on your computer by the sites you visit. They are widely used to operate websites and distinguish unique users and their method of using the site. They are readable on future visits to the site but do not identify the user, being anonymous and containing no personal information.
The list below details the cookies used on our website.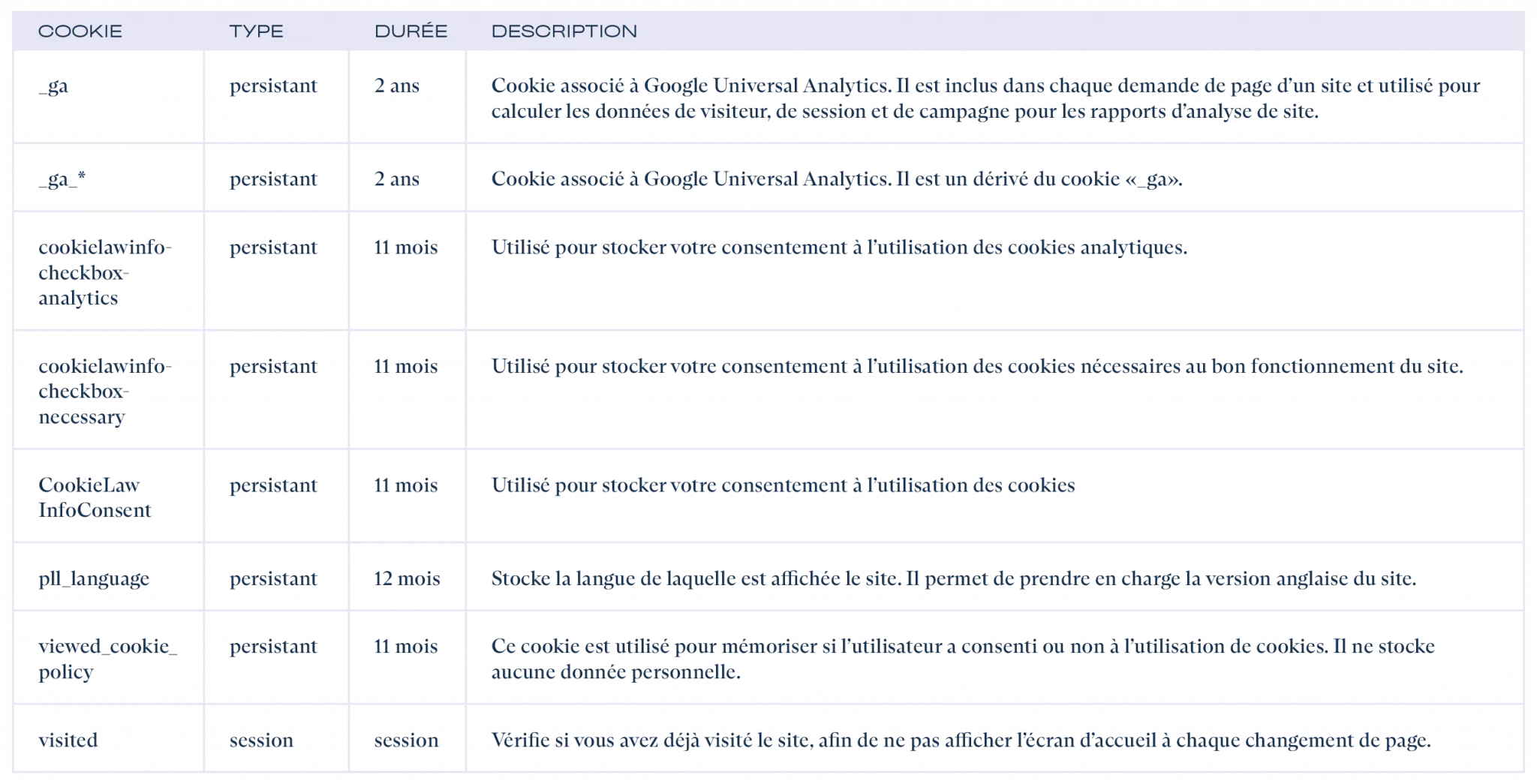 Google: For the management of cookies issued by Google, we refer you to the privacy policy of Google
https://policies.google.com/privacy?hl=fr
You can revise your consent to the use of cookies at any time by clicking on the button below: manage consent